Chuwi's LarkBox is a computer no bigger than an apple, and yet it incorporates an Intel processor, 6 GB of RAM and 128 GB of storage. All with wireless connections and sufficient connectivity to connect the screen, external hard drive, keyboard and mouse.
61 x 61 x 43 mm. The measurements of the LarkBox leave you dreamy, but also perplexed when you learn that it is an authentic PC running Windows 10 . Its manufacturer even talks about the smallest computer capable of displaying images in 4K.
To give an idea of ​​the format, this block has roughly the volume of a packet of tissues, with sides equivalent to the width of a credit card. It's really very small, and yet there is a Celeron N4100 processor inside, whose rate varies from 1.1 to 2.4 GHz, 6 GB of RAM and 128 GB for storage. Chuwi clarified that there is a mini-fan , so we can expect it to be a bit noisy for some overly demanding activities.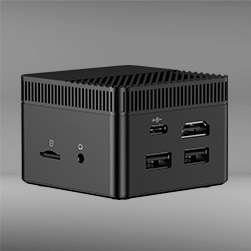 Complete connectivity
For connectivity, there is more than the minimum, with two USB Type-A sockets to connect keyboard and mouse, a USB Type-C socket probably used for charging, an HDMI port to connect a screen, and even a location to receive a microSD card and a headphone jack. All with 802.11ac Wi-Fi and Bluetooth 5.0. If you just work, watch videos, surf the web or do some photo editing work, that's more than enough. For online gaming, however, it will be complicated.
Two strangers all the same: price and availability. Given the configuration, it should not exceed 200 euros, and it can be a good solution to make a living room PC , dedicated to video streaming or to acquire a unit for office automation , in addition to a PC more powerful laptop.